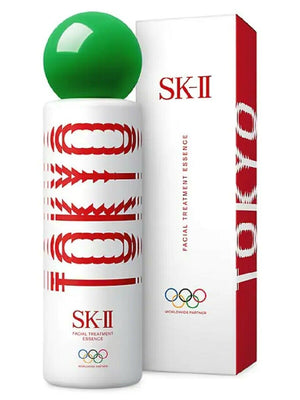 SK-II Limited Edition PITERA Essence in 2021 Tokyo Olympics Packaging

What it is:
SKII's iconic PITERA™ Essence for Crystal Clear Skin now in exclusive 2021 Olympic Limited Edition design
7.7 fl oz. Made in Japan



How to Use:
Application is simple. POUR about 2-3 shakes into hand, PRESS palms together and then PAT all that PITERA™ goodness all over your face. Continue to PAT PAT the essence until fully absorbed. Use it twice a day, after cleansing and toning. It is the treatment step before your moisturizer.

All skin types
About SK-II Skincare:
SK-II's story begins with a chance observation at a sake brewery in Japan, where a group of scientists noticed the elderly brewers had wrinkled faces but extraordinarily soft and youthful-looking hands.

Intensive search began out of millions of yeast strains and studies were conducted on hundreds of fermentation conditions. Now every drop of PITERA™ is produced by cultivating an exclusive yeast strain under the most stringent conditions that remain SK-II's most valuable trade secret to this day.

A miracle like no other, PITERA™ is pure power of nature harnessed by advanced technology.